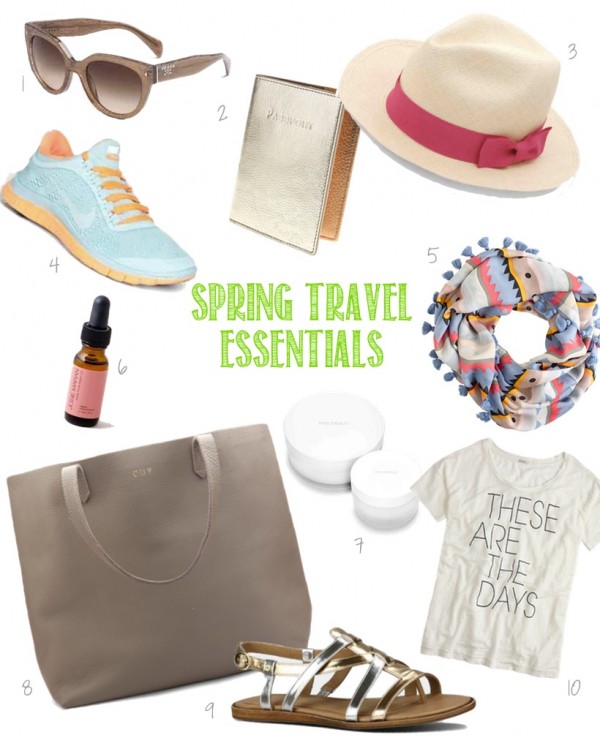 1 Prada Cat Eye Sunglasses 2 Jcrew Passport Case 3 Cuyana Panama Hat 4 Nike Running Shoes 5 Jcrew Printed Silk Snood 6 Josie Maran Argan Oil 7 RMS Beauty Raw Coconut Cream 8 Cuyana Leather Tote 9 Ugg Brigid Metallic Sandals 10 Jcrew Linen Tee
Happy Saint Patty's Day! With April quickly approaching, Spring is in the air and so is travel. Many are headed off to warmer climates for Spring Break and others, including Brass Tacks, are knee deep in summer travel planning. I also have a lot of personal travel on the horizon which has me pondering  what new items will be coming on the plane with me. While my upcoming trips are all over the map (literally and figuratively) there are many essentials that I bring no matter where I go. Whether it be a long winter weekend in New York, a spring vacation to Amsterdam, a weekend in Wine Country or a fall trip to Greece- I always have many of the same things packed in my bag.  Here are just a few of my go-to's.
A great bag- There is nothing like a great travel bag. Flies well as a carry on, doubles as a daily purse and has enough room to stash your fun finds on the way home.
Moisturizing skin treatments– Airplanes really suck the life out of your skin. The best way to combat a tired look post-arrival is to fly with premium moisturizing products. Josie Maran's Argan Oil has become a staple of mine to combat dry air.  Being a bit of a coconut oil addict (hello oil pulling), I'm also loving the look of RMS Beauty's coconut cream.
Scarves- I never ever go on a trip without a scarf (or five). They are the perfect solution for getting cozy on the plane, days that get chilly or sprucing up an outfit.
Comfy shoes- I'm adopting a new policy of always bringing a fun pair of running shoes on every trip. Use them for the gym, a last minute hike or a full day of exploring- you can't go wrong with something a little more practical and your feet will thank you.
A cozy tee- I typically fly in a cozy tee and surely bring a number of them to any destination. Throw a scarf over for a casual look during the day or dress one up with a blazer and some heels for an evening out. This option is just too fun for spring travel.
Stylin sunnies- I never leave home without a pair of great sunglasses. Sunnies are even more imperative when you're spending your days outside exploring. They're a perfect way to accessorize a basic outfit or cover puffy eyes after long hours on a plane.
Wherever you're off to this year, I hope you travel in style and have a safe trip!