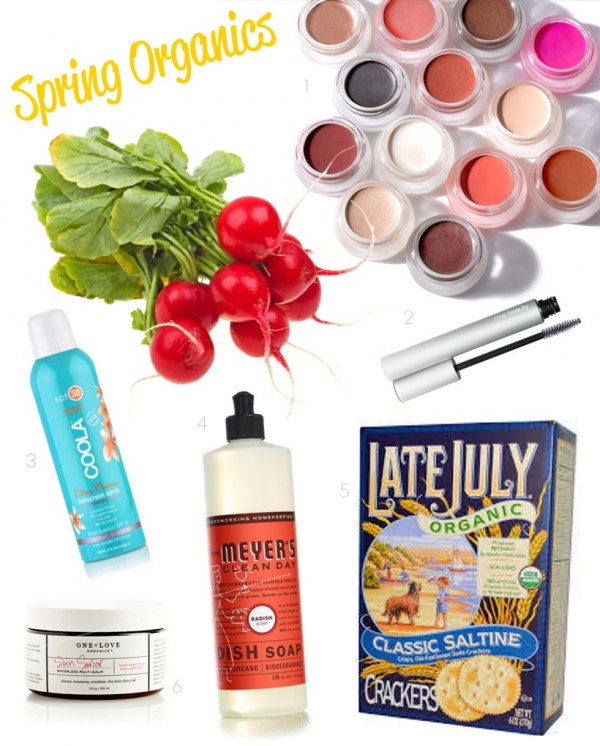 1 RMS Beauty 2 RMS Mascara 3 COOLA Sunscreen 4 Mrs. Meyer's Dish Soap 5 Late July Organic Snacks 6 One Love Organics Skin Savior
For me, Spring isn't just about cleaning my closets and stopping to smell the tulips. It's a time of year that always inspires me to reflect on my health and lifestyle choices. As the snow melts away, I'm motivated to exercise more and fill my body with healthy veggies and whole grains. I focus on my post-winter skin by nourishing it with moisture and protecting it from the sun rays it's not used to feeling. Minnesotans experiences such seasonal extremes that force you to a heightened awareness of seasonal transitions. After six months in the frozen tundra, Spring is by far the most long awaited transition. Every year I go through a "spring renewal" ritual and pamper myself with healthy organic food, fabulous new products and even an annual moisturizing body wrap. It's a way to say hello to Spring and start six months of warmth feeling refreshed and energized.
This year, I'm loving so many wonderful organic products I don't even know where to start with my pampering. RMS ""un" cover-up was a favorite throughout winter and I'm now loving their living luminizer, mascara and just about every other product they make.  I recently discovered One Love Organics through the fabulously curated local online boutique, Love Crate, and am using it as both a cleanser and moisturizer. Perfect not only for spring but also next winter! I discovered COOLA Organic Suncare Collection after a malfunctioning aerosol sunscreen incident in Hawaii last all. Our resort came to the rescue with this fabulous replacement and it's now my go-to sunscreen- it smells divine! Speaking of fabulous scents, I am such a sucker for Mrs. Meyer's cleaning products and the amazing scents they come in- Radish, Basil, Rosemary– yes please! While her products make doing dishes a little less painful, I often choose to stick to my Late July Organic Snacks to avoid dirty dishes all together.
What fabulous organic products are keeping you healthy and happy this spring?!