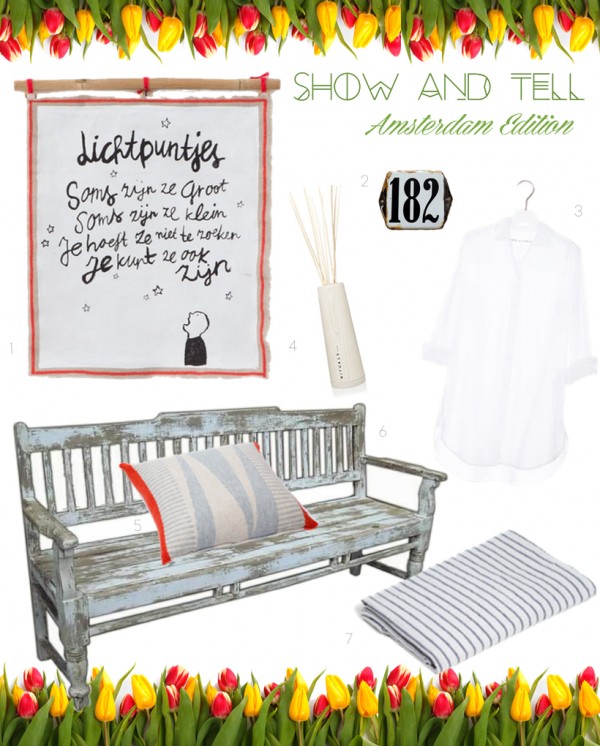 1 Sukha Wall Hanging 2 Dutch House Number 3 Vanilia Blouse 4 Rituals Fragrance Sticks 5 FLINK Pillow 6 de Waldaad Bench 7 By Molle Table Linen
Greetings from the land of tulips, canals and cheese! While I have had the pleasure of stepping foot in Amsterdam once before, ten days here has allowed me to truly soak in all this amazing city has to offer. In typical "girls trip" fashion, my mom and I have been doing nothing but eating, drinking, shopping and walking. And let's be honest…our suitcases are filling up rather quickly! With multiple stops at fabulous shops, we're getting to know some people on a first name basis (this is a good thing, trust me)! I could easily decorate my whole house from here (but my husband would have my head) so I'm sharing just a few of my favorite finds while they're still fresh in my shopping mind.
Step into the dreaminess that is Sukha Amsterdam and you will not be disappointed. Sukha means "joy of life" in Sanskrit and this store is seriously a joy to behold. With charming doodles like this and amazing pillows like that, you could browse for days. The young woman behind that pillow has a beautiful line called FLINK Netherlands. She helps define Dutch Luxury by using the most high-quality wool (knitted in an old Dutch knitting factory) to create the most divine blankets, pillows and scarves. FLINK is not the only line committed to a growing movement that celebrates the beauty of local production. By Molle, uses only natural materials to make all of their products. From the undyed wool of Swedish and Norwegian sheep to the flax for their linen from the Atlantic Coast- By Molle embodies sustainability and true craftsmanship. This gorgeous table cloth is already coming home with me (not surprisingly, it's striped!). Clothing companies like the Dutch brand Vanilia are also committed to corporate responsibility. With just twelve small collections released a year, their charming stores are beautifully curated with unique pieces you can be pretty sure not many others will own  (like the new favorite oversized blouse I will be living in). If I had more room in my suitcase I'd be adding in some amazing vintage furniture from de Waldaad (like this bench!), a charming custom made house number from Alfons De Letter and yummy scents from Rituals.
I guess another trip is in order come new home decor time!