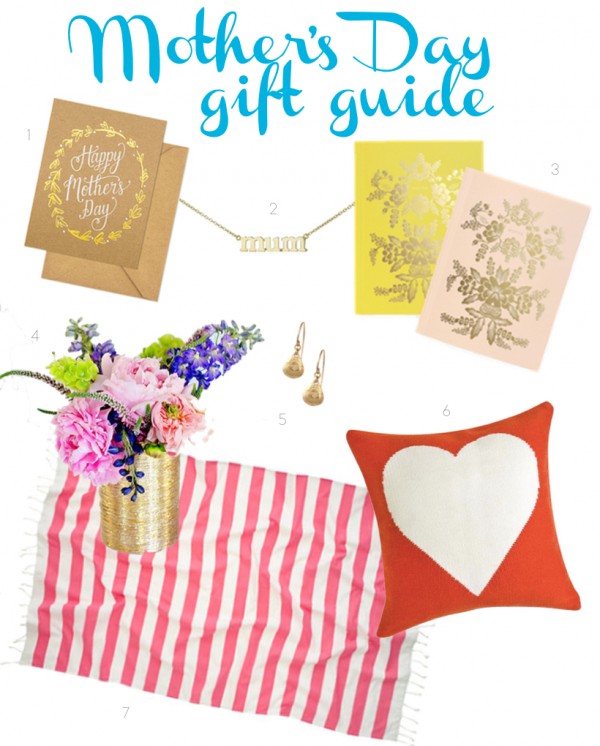 1 Sugar Paper Card 2 Jennifer Meyer 'mum' Necklace 3 Rifle Paper Rorschach Notebook Set 4 Beautiful Flowers 5 Stella & Dot Demi Earrings 6 Jonathan Adler Pillow 7 Nine Space for Jcrew Beach Towel
Mother's day is a little over a week away which means it's time to put those thinking caps on and find a lovely gift for your dearest mom. After just spending ten solid days of quality time with my own mom, I a reminded that there is nothing more special than a mom. She is the woman who birthed you, raised you, fed you, taught you so many life lessons and ultimately (at least in my case) is one of your closest friends and confidants. That said, shopping can be tricky for the mom who has everything so I like to stick to something small that I know will put a smile on her face. A good place to start is a fabulous card. There are so many good options here but I usually resort to my favorite, Sugar Paper. In addition, you can never go wrong with beautiful flowers. When sending long distance I typically shop here, otherwise for local delivery, Spruce will not disappoint. If you're upping your game and opting for a more substantial gift I'm loving this beautiful summer beach towel (doubles as a throw?), Jonathan Adler's fun pillows, Rifle Paper's new journal set and these simple earrings from Stella & Dot. I've also long had my eye on Jennifer Meyer's 'mum' necklace, developed in collaboration with goop. Perfect for the new mom who is celebrating her first mothers day. Lastly, if you're still struggling for ideas and live in Minnesota, come by the Lovin' Local Event next Wednesday May 7th for some mothers day shopping, beats and bubbles.
Happy early Mother's Day to all of you moms out there!!