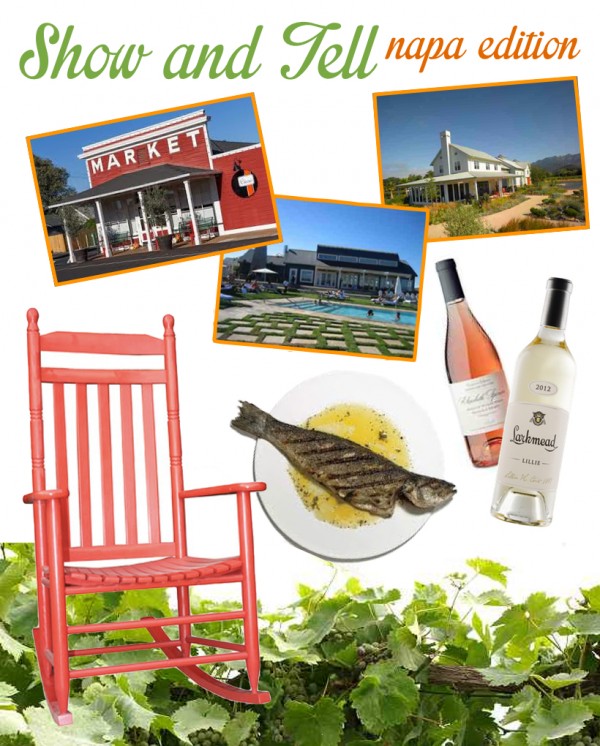 The hubby and I are just back from an amazing long weekend in Napa. After marrying at The Carneros Inn last May, they gave us a free stay as an anniversary gift so we jumped at the chance to soak up an extra long weekend at our favorite little slice of paradise. While each of our trips to Napa have been different, we always stick to the following guidelines: visit small production wineries (with some exceptions), eat a lot of amazing food (not very hard) and try to relax at the hotel as much as possible (sometimes a challenge with everything else we like to fit in). I'm often asked by clients for tips on what to do and see while visiting Napa Valley. There really is so much to explore,  but without further adieu, here is a very brief overview of just a few personal favorites.
Wine
There are so many hidden gems to explore in wine country which means a little upfront research and planning can go a long way. For an amazingly peaceful setting, fabulous modern farmhouse architecture, rich and wonderful wines (and fabulous branding to boot) I adore Larkmead Vineyards. A similar ambiance in a less private setting can be found at the laid back Frog's Leap (you can find me drinking their Rosé all summer long). For a secluded setting with delicious reds (and if you're lucky a tasting of their aged Balsamic), make a reservation at The Terraces. Get your fix of bubbly at the beautiful Domaine Carneros and take a tour of a a wonderful vineyard at Gundlach Bundschu for a taste of the Sonoma side of things.
Food
Just like tasty wine, delicious food is not hard to find in Napa Valley. My list of favorite restaurants is long but there are a few we visit on repeat. While I enjoy Redd, their sister restaurant, Redd Wood dishes up fabulous pizzas and pasta in a laid back setting that is perfect after a long day of tasting. Head across the street to Ciccio, a no-reservations local hang that serves some mean rustic italian. I could eat their whole grilled fish ten times over. For fabulous Italian in Napa proper, stop by Oenotri (or Bottega in Yountville)- you won't be disappointed with either. Once you're tired of Italian and really craving some pomme frites, Bistro Jeanty is an old favorite. Perfect for a rich lunch particularly during the colder months of the year. When you're feeling like checking something off the bucket list there's always French Laundry. Definitely a once in a lifetime experience (tip: come rested (both yourself and your wallet) as you will be there for hours). On the opposite end of the spectrum are my favorite lunch spots- Fremont Diner for casual diner grub, La Luna Tacqueria for authentic Mexican to-go, Addendum for Ad Hoc's famous fried chicken and Oxbow Public Market for a variety of tasty treats. Lastly, I can't leave Boon Fly Cafe off the list as their mini-donuts are a Napa staple for us.
Relaxation
If you ask me, there are few places in the world more serene and relaxing than the Hilltop pool at The Carneros Inn. Equally splurge worthy is Bardessono in Yountville, Solage in Calistoga or the classic Auberge du Soleil. If looking for something a little more reasonable, there are  many great options centrally located in Yountville like Villagio and the newer modern boutique, North Block.
Wine Country, you never cease to rejuvenate me. Cheers to another year with the wine cellar stocked!
*For further tips or itinerary planning, contact Brass Tacks today*