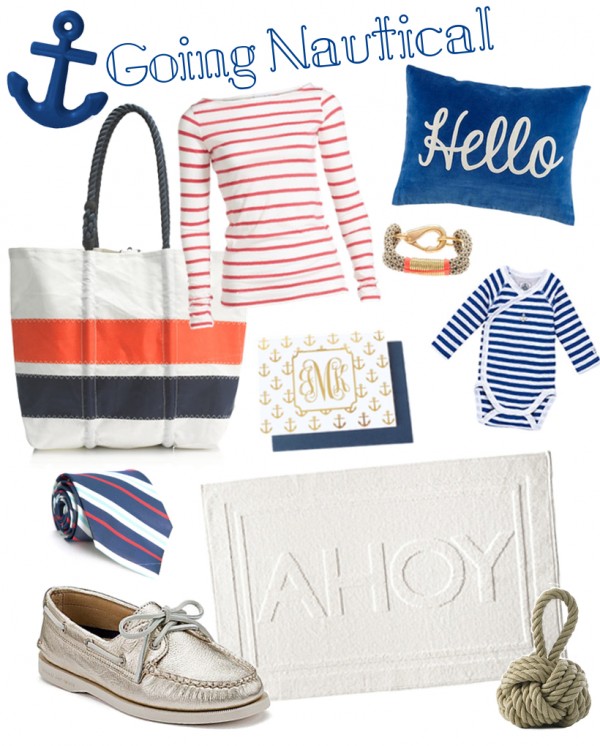 Clockwise from top left: Anchor Dog Toy / Stripe Boatneck Tee / Hello Throw Pillow / The Ropes Bracelet / Petit Bateau Newborn Bodysuit / Ahoy Bath Mat / Sperry Metallic Boat Shoe / Stripe Gent Tie / Gold Anchor Monogrammed Stationary / Sea Bags Tote
If you follow me on Instagram, you're already familiar with my love for stripes and my recent move lakeside. Lucky for me the two go together quite nicely, giving me the perfect excuse to embrace my inner sailor this summer. I'm clearly not the only one adding nautical flair to my life. Jcrew currently has a few nice collaborations with fabulous Maine-based companies crafting pretty goods out of nautical ropes and reclaimed sails. These are great additions to classics like the Sperry Topsider which is now available in just about every color and pattern combination you could dream of. I surprised my hubby with these for his birthday and let's just say anything from the Gold Cup line is THE most comfortable shoe ever. I'm counting the days until their Women's version of the line comes out this Fall. Nothing goes better with a pair of Sperry's than a classic striped top. For the real deal, opt for this Saint James version. This company has been turning out nautical inspired wear in Normandy since the 1800's. More budget friendly options can be found nearly everywhere including here and here. You of course must include your little ones in the stripes frenzy as well. Leave it to another fab french company to turn out this cute getup. Once you've finally hit your stripes quota, turn to home decor and personal stationary as mechanisms to add a little seaside love into your life. (and don't forget Fido in all the fun!).
Wherever you spend your summer I hope you're able to enjoy the water somewhere!