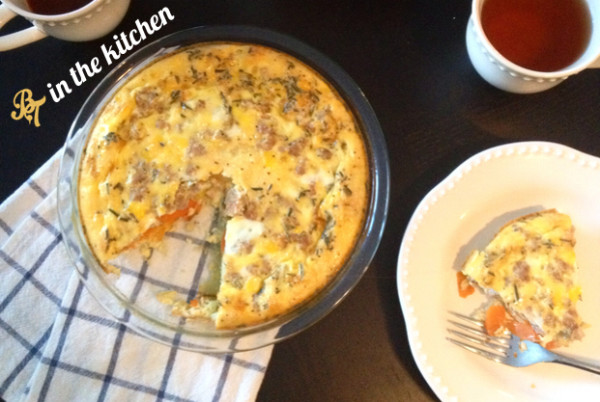 I don't know about you, but Sundays always seem like the perfect time to plant myself in the kitchen and fill the house with yummy aromas from the oven. There's something so gratifying about waking up your loved ones with the smell of freshly baked goods and a hot pot of coffee. This delicious quiche is so easy to whip up and is a healthy alternative to the usual cream filled pie crust bottomed recipe we're used to. More healthy recipes like this can be found in the Against All Grain cookbook (my new fav!).
What you'll need:
1 medium sweet potato (or butternut squash works too)
1.5 lbs breakfast sausage, casings removed, cooked and crumbled
1 teaspoon chopped fresh rosemary
10 eggs
3 tablespoons coconut milk (or regular)
1/2 teaspoon sea salt (plus more to taste)
1/8 teaspoon cracked black pepper
Pre-heat your oven to 350 degrees. Grease the bottom and sides of a pie plate with a thin layer of olive oil. Peel your sweet potato and use a mandolin (or sharp knife) to thinly slice the potato into very thin disks. Arrange the sweet potatoes in a circular pattern, covering the bottom of the pie plate completely. Layer the sausage evenly over the potatoes, covering the entire surface. Sprinkle the rosemary gently over the sausage layer. Place the eggs, milk, salt and pepper in a bowl and whisk to combine. Pour the beaten egg mixture into the dish. Back for 30 minutes or until the center is set and the eggs have puffed up.
Serve with a side of hot sauce and a steamy beverage of choice. Enjoy!