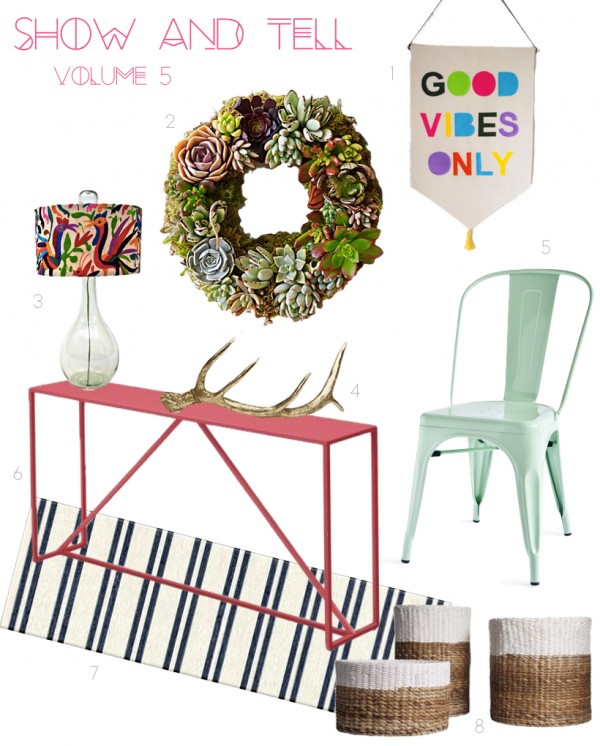 1 Good Vibes Only 2 Mixed Succulent Wreath 3 Otomi Table Lamp 4 Faux Deer Antler 5 Marais Side Chair 6 Strut Console Table 7 Catalina Rug 8 Colorblock Woven Baskets
I'm in major new house planning mode over here and have been doing a lot of thinking about what makes a house a home. The feeling of "home" is derived from an intimate relationship between ourselves and our space. When finished properly, a home gives you comfort, pleasure and a personal sanctuary. It is the accumulation of meaningful items that ties a home to you and your life experiences. Or maybe it's not about what's in your home at all but rather a general sense of familiarity. It's quite easy to get caught up in only wanting the finest finishing touches for your house. Expensive furniture, top of the line appliances and everything else you see on the pages of a glossy magazine. But, at the end of the day, your home is your cozy space. It's a half drunk glass of wine in the kitchen. A ruffled blanket on the couch. Your slippers by your bedside table. Your pup's bone tucked away in the couch cushions. An unmade bed and piles of laundry. The smell of your husbands cologne and that favorite recipe you cooked last night. A place surrounded with simple possessions that inspire you and your loved ones. Home is where you begin your morning and end your evening. It is where you share moments of joy and moments of sorrow. Most importantly it is where you grow as an individual and watch your family grow along side you.
The importance of all of this seems more obvious as I begin planning the remodel for the home that will be our family home. I'm trying to make decisions through the eyes of what my children will one day see. Keeping that in mind I hope to make my home a cozy but bright space that reflects the happiness my husband and I share on a daily basis. One which teaches our children to love and be loved and to approach everyday choosing joy. With that said, I'm sharing a bright smattering of items today that just exude playfulness. From a reminder to share good vibes to pretty eye candy to gold accents and an artistic lamp. There are so many ways to really liven up a home- I can't wait until we complete our remodel and begin making our house a home.