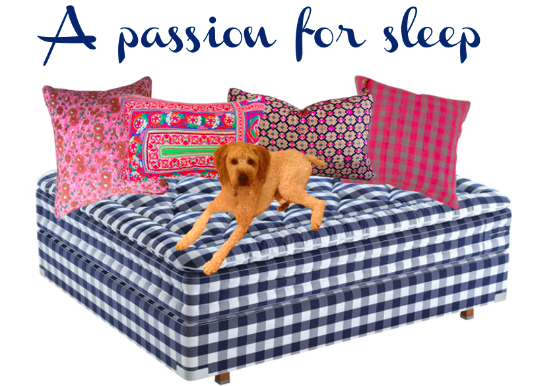 At Brass Tacks my goal is to bring simplicity to your life. A large part of that mission is helping people slow down. For many of us, slowing down starts with getting the necessary amount of sleep our body desires.
As I navigate the wonderful world of remodels and am faced with daily purchasing decisions, I've been reminding myself to slow down as well. The older I've gotten, the more conscious I've become of my body. What I feed it, what I put on it and how I rest it. I've broached this topic here and here and now it is coming full circle as we hunt for a new king mattress. It is no secret that mattresses are often filled with nasty chemicals, regularly off-gassing VOC's and other toxic fire retardants.  I'll spare you the scary details but the more you look into it, the more alarmed you'll be about that cozy memory foam bed you've been sleeping on. In my never ending search for the best brands and products, I stumbled upon Hästens beds. The most beautiful all natural bed you could ever dream of (and you'll definitely be doing a lot of that when you sleep on one of these gems). Scandinavian born and dressed in gingham- I think it's a relationship that's meant to be…
For over 150 years, the Swedish based Hästens has been making beds by hand from only the finest ingredients nature has to offer. Horsehair, flax, wool, cotton and slow-growing Swedish pine are just a few of the elements included in these stunning beds built to last a lifetime. I won't lie, the price is absolutely aspirational. But when you think about the most important purchases in your home, your mattress should without a doubt be one of them. Why? We humans spend one third of our lifetime sleeping. Yes, sleeping. We spend more time sleeping than we do eating or exercising.  And the quality of our sleep not only affects our energy levels but ultimately our health and happiness. When you consider the fact that these beds have a 25 year warranty (and are built to last far longer), it becomes frighteningly easy to consider owning one.
First I need to win the lottery but then I plan on embracing my passion for sleep by aligning myself with a company that feels the same way. In the meantime I'll gladly become Hästens Minnesota brand ambassador (hint hint)!