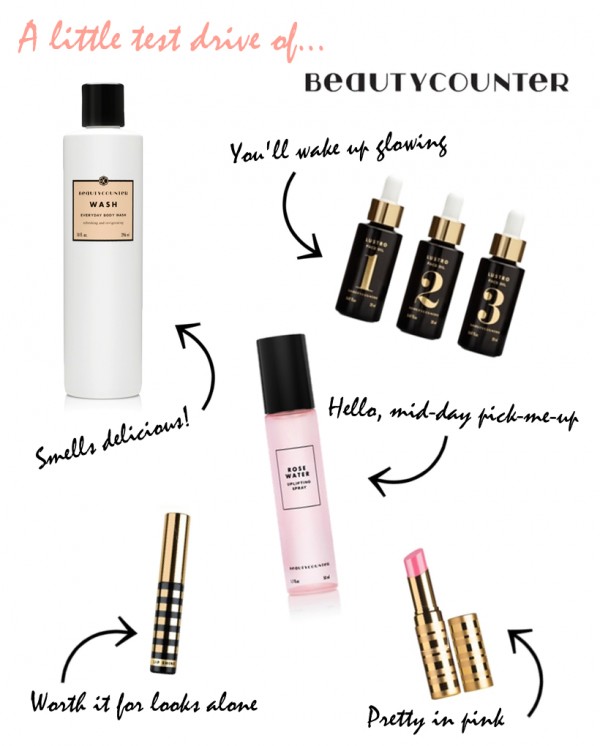 It is no secret that I'm a big believer in investing in quality skin care products. After realizing the ingredients of some of the things I put on my face, I've developed a heightened awareness for products that not only work but are good for you. With so many new products popping up there is a lot to try (see some of my favorites here) so I didn't hesitate to say yes when asked to take the Beauty Counter line for a test drive.
Beauty Counter is a Santa Monica based company with a mission to get safe products into the hands of everyone. Research has revealed that the toxic chemicals we encounter in daily life may play a role in the increase in serious health problems our society faces (hello cancer). On average, American Women use 12 beauty products a day resulting in exposure to over 100 chemicals before we even leave the bathroom in the morning. Alarming! The good news is, Beauty Counter has banned more than 1,500 ingredients in their products resulting in the strictest ingredient selection process in the industry. With this brand, you not only know what you're getting but their products remain as indulgent and luxurious as many other (less safe) products you may already be using.
While it's hard to pick a favorite, I'm on the oil bandwagon lately and I couldn't help but love the results seen with the Lustro Face Oils. With quick absorption, they left my skin nourished and glowing without feeling greasy. I also fell for the delicious citrus-mint smell of the body care line, in particular this yummy wash filled with moisturizing marula and mongongo oils. While I found the am and pm moisturizers to be great, I enjoy sourcing more unique products and am intrigued by the Rosewater Uplifting Spray which may just act as my ultimate facial refresher this summer. These products are only the tip of the iceberg since Beauty Counter offers two full face care collections. The Face Collection is perfect for every day use while the Countertime Collection consists of their workhorse anti-aging products. But let me tell you- you really can't go wrong with anything in this line. In fact you'll likely go a lot more right than where you have been.
For more information about the current products you use (and their safety rating) visit the EWG Cosmetics Database. You can also download their app to scan products on the go.
If you're interested in spreading the good word about safe products, consider being a Beauty Counter Consultant. Contact Jen Shultz for more information or simply purchase your products through her to receive fabulous local customer service.
Lastly, make sure to enter the GIVEAWAY of my favorite Lustro Face Oil! To enter, follow Brass Tacks on Instagram and Facebook and leave a comment in either place about which product you can't wait to try. A winner will be drawn at random on Friday May 16th. Enter now and don't miss your chance to win!