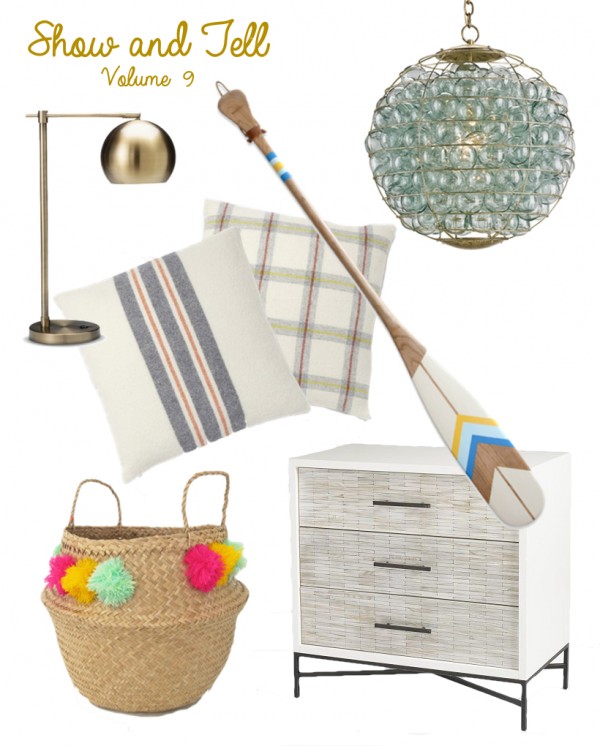 Clockwise From Top Left: Gold Task Lamp / Artisan Painted Canoe Paddle / Pastiche Orb Chandelier / Wood Tiled Dresser / Pom Pom Basket / Faribault Stripe Pillow / Faribault Plaid Pillow
What better way to return to the blog than with a show and tell of my latest fun finds! Fall is in full effect in Minnesota resulting in gorgeously colorful foliage, hearty cooking and the beginning of cashmere sweater season. My remodel project is also moving full force ahead so I'm spending these lovely brisk weekends scouring markets, shops and sales for special items to decorate our "new" home. Faribault Woolen Mill has long been a favorite local company of mine so I was elated to hear they are partnering with West Elm this season to bring cozy plaids to a wider market. While their throws are a staple, I have my eye on these stripe pillows. To tie in the nautical theme to our lakeside abode I am loving beautifully crafted goods like these artisan painted canoe paddles and statement lighting. Speaking of lighting, that has been my biggest struggle thus far. I'm finally in a place where I adore each and every one of our light selections and now am focused on the slightly easier task of sourcing table lamps. Sometimes the best finds are in the least expected places…like this gem from Target. And while I'm browsing the big retailers I can't help but fall for these side tables. Part beachy, part modern and part unexpected. Just like my new favorite basket (minus the modern).
What are you lusting after these days?