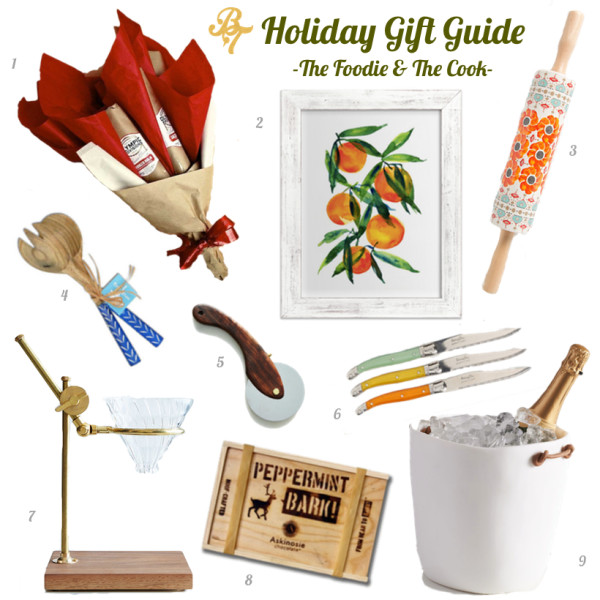 Shop the Guide: 1 Olympic Provisions Salami Bouquet 2 Tangerine Print 3 Poppy Ring Rolling Pin 4 Indigo Wood & Bone Servers 5 Handcrafted Pizza Cutter 6 Laguiole Steak Knives 7 Brass & Walnut Pour Over Coffee Stand 8 Askinosie Peppermint Bark 9 Tina Frey White Champagne Bucket
To me the holidays are all about family. And food. The meals that become traditions and the wafting smells that bring you comfort. The kitchen is a special place to be during the holidays. Whether you're shopping for a treat loving co-worker or a friend with a new kitchen, these goodies are sure to please (and look beautiful while doing so!).
For the beverage connoisseur I recommend a beautiful handcrafted coffee stand or a sleekly sculpted champagne bucket. Surprise a foodie friend with a creative and divine salami bouquet (Olympic Provisions is responsible for the one time I've eaten an entire salami in one sitting- it's that good) or a box of delectable peppermint bark from craft chocolate purveyor Askinosie. Surprise your favorite cook with a too-pretty-to-use rolling pin or a set of classic Laguiole steak knives in bright colors. When you're really stumped, just about everyone can use some beautiful servers and a swanky pizza cutter but save the gorgeous tangerine print for someone extra deserving of some beauty in their lives.
Cheers to a holiday season filled with love, laughter and delicious food!