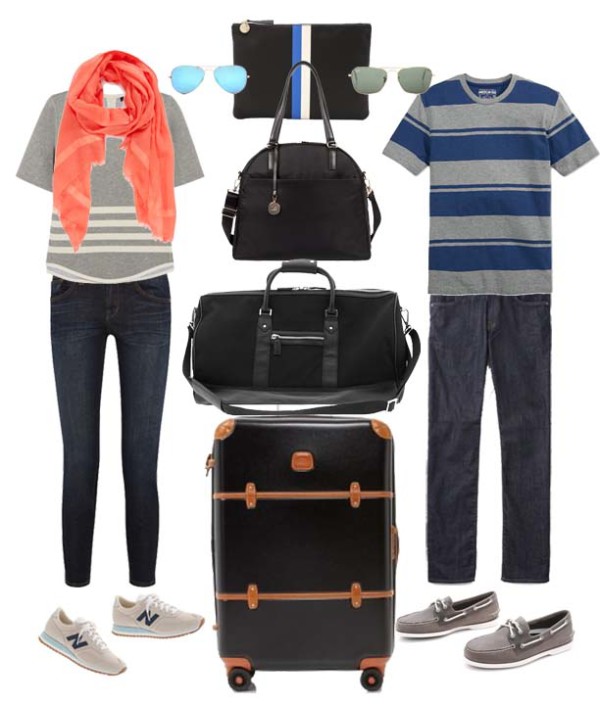 With lots of friends and family members currently on spring break, I still have traveling on my mind. Finding a great carry-on bag is a must, and I can't recommend the Lo & Sons O.G. bag enough. It houses my laptop safely and still has plenty of room for my other travel essentials. My favorite feature, though, has to be the adjustable back panel sleeve that secures the bag over luggage handles. While traveling, my clutch houses all of my receipts and important documents throughout the trip. That way, I am not guessing where anything is and making the travel day a little less stressful.
For the guys: I bought Bill the older version of the weekender above, and he gets quite a bit of use out of it. I love the classic silhouette and two-toned elements. I also love that it has the top handles as well as an adjustable shoulder strap.
Below are a few more packing tips and trips:
+ When packing, pick a color scheme so you can mix and match items throughout the trip.
+ Pack items that can be worn multiple ways. For the ladies, I love a great black maxi dress because you can throw it on with a printed scarf one night and then layer a striped tee and statement necklace over it another night. For the guys, I love a classic t-shirt that you can dress up or down.
+ Save space by storing socks, belts and more in your shoes.
+ Pack a garbage bag to use as your laundry bag throughout the trip.
+ When filling up your suitcase, place the heaviest items, like shoes, by the wheels so they don't crush other more delicate items.
+ Store lotion and other makeup products in a contacts case to help save space so you don't need to bring the big containers.
+ Pack small chargers in a 
glasses case
 so they don't end up dispersed throughout your bag.
xo,